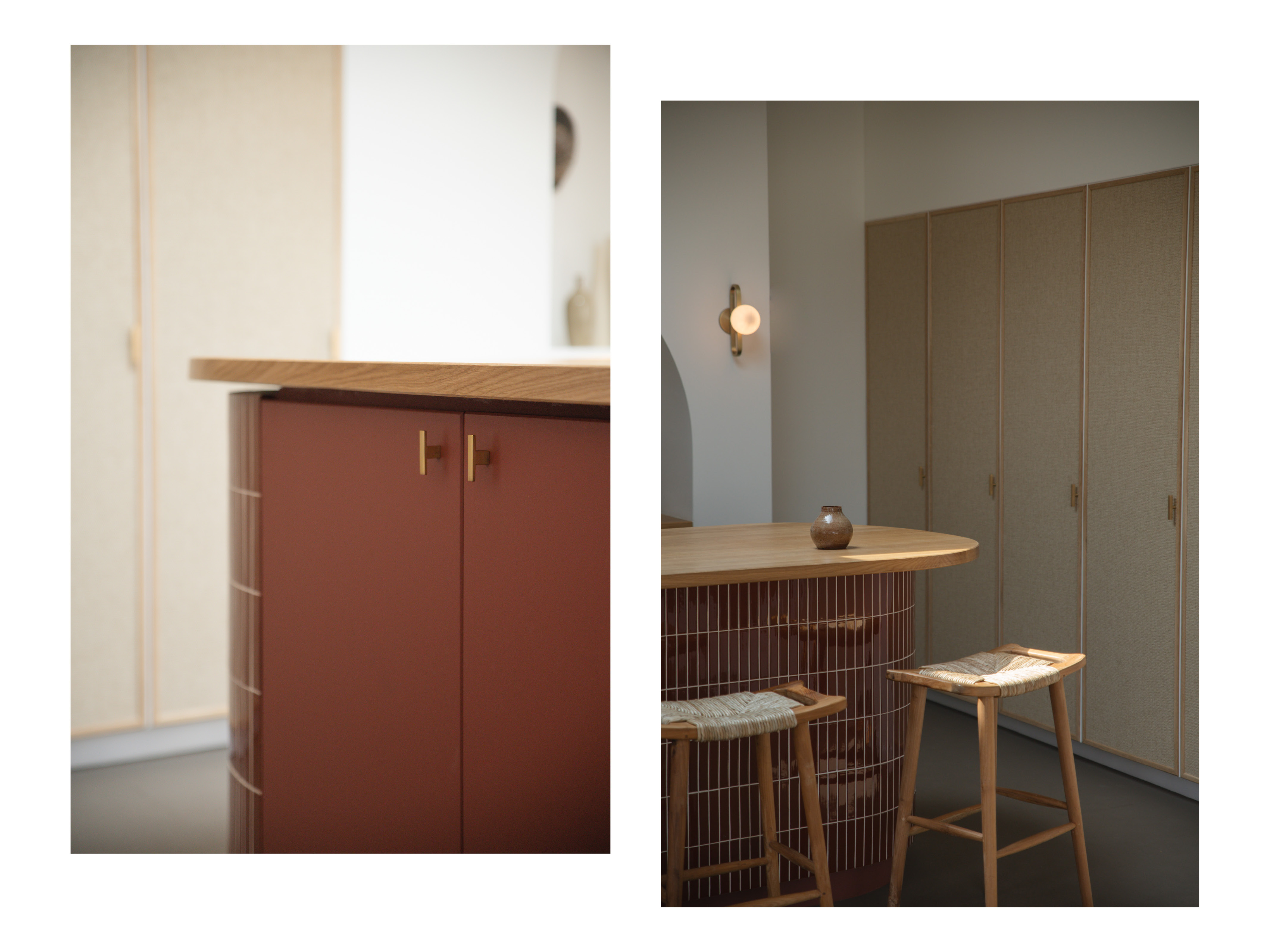 Maison La Pie | Normandie ︎︎︎
Commande privée pour l'aménagement du rez-de-chaussée d'une maison. L'ancien plan était adapté à l'usage initial : une auberge de vacances pour plusieurs familles. Les dépendances en béton ont étés démolies pour laisser place à un plus grand jardin et la répartition des pièces a été repensé pour s'adapter aux usages d'une seule famille. Une extension a également été dessinée pour créer un espace de détente ouvert sur l'extérieur. La plupart des matériaux sont d'origine locale et le mobilier est principalement chiné. Une nouvelle cuisine, un nouveau bureau, une nouvelle salle de bain buanderie et un nouveau salon ont étés réalisés pour ce projet.
Rénovation et aménagement d'une maison
familiale en Normandie
Private commission for the design of the ground floor of a house. The old plan was adapted to the old use : a holiday inn for several groups. The concrete outbuildings were demolished to make way for a larger garden and the room layout was redesigned to suit the use of a single family. An extension was also designed to create a space open to the outside. Most of the materials are of local origin and the furniture is mainly second-hand. A new kitchen, a new office, a new bathroom and a new living room have been created.
The distribution of the rooms has been changed to better match the needs of the customers. Where there used to be a very small kitchen, there is now an office along the window overlooking the garden. This small room allows you to isolate yourself from the rest of the house while still being very open to the outside and connected to the rest of the house. A new spacious walk-in kitchen has been created in the former small reading room, which had no real use in the past. The former ground floor bedrooms in the concrete outbuilding were partially demolished to create a new, bright living room, open to the outside and looking out onto the back garden. Deux petites pièces ont également étés réunies pour créer une buanderie salle de douche au rez de chaussée
La répartition des pièces a été changé pour correspondre d'avantage aux besoins des clients. Ainsi là où il y avait avant une toute petite cuisine se trouve désormais un bureau longeant la fenêtre avec vue sur le jardin. Cette petite pièce permet de s'isoler du reste de la maison tout en étant très ouvert sur l'extérieur et en restant connecté au reste de la maison. Une nouvelle spacieuse cuisine traversante a été aménagée dans l'ancien petit salon de lecture qui n'avait autrefois pas vraiment d'utilité. Les anciennes chambres au rez-de-chaussée situées dans la dépendance en béton ont étés partiellement détruites pour créer un nouveau salon lumineux, ouvert sur l'extérieur et regardant sur le jardin arrière. Two small rooms have also been joined to create a laundry room and shower room on the ground floor